Ever wondered why short-form video content has taken the internet by storm? The social media platform TikTok is largely responsible.
Launched in 2016, TikTok is officially the fastest-growing social network of all time. 1 billion active users currently enjoy the ability to use smart editing, music, and filter features in order to create engaging short videos up to 3 minutes long. Its highly advanced recommendation algorithm also does an excellent job at delivering personalized content to users, keeping them on the application for over an hour a day.
In this blog, we'll break down TikTok trends to observe in 2022 and how you can capitalize upon them to succeed on the platform.
Understanding TikTok's Popularity – Present and Future
TikTok primarily appeals to Millenials and Gen Zers. In the US, nearly half of users are under the age of 30 years old. Despite having such a young userbase, TikTok is recognized by all generations. Studies show that 89% of U.S adults are aware of the brand, even if they haven't used the platform.
COVID-19 fueled much of the hype we are currently witnessing around the application. With students being out of school for much of 2020 and many extracurricular activities affected by governmental restrictions, social media became a popular way for these teenagers and young adults to fill time and connect with one another. The graphic below shows that conversations around the platform started heating up during the first half of 2020, but didn't peak until about 18 months later –  in the middle of the global pandemic. In 2021, TikTok became the first non-Facebook app to reach 3 billion global downloads.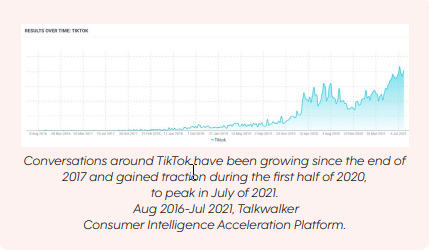 Source: HubSpot
TikTok's growth shows no signs of slowing down anytime soon. Reports suggest that the application is expected to hit 1.5 billion users over the next 12 months, moving it up from 7th to the 4th most popular social platform on the internet. If TikTok continues to expand at its current rate, it could possibly reach the top spot by end of next year.
6 Ways Your Brand Can Succeed on TikTok
Your Facebook or Instagram marketing plans won't work this time. TikTok requires completely new strategies to attract and retain engaged users. Want to be successful on the platform? Be sure to incorporate these tips into your TikTok approach.
Check Back for Monetization Methods. YouTube experienced significant growth when it started allowing users to monetize their content. In the future, we'll see TikTok adopt a similar model to keep both creators and consumers engaged with the platform. This could have a massive impact on how brands are able to connect with influencers moving forward. Keep this in mind when planning campaigns for 2022 and beyond.
Take Advantage of the Algorithm. TikTok's is loved amongst its userbase because of its highly personalized algorithm that seems to provide users with exactly what they like to see. When a video is posted to the application, TikTok starts by showing it to a small audience and evaluating how its received – monitoring how many people watched it in its entirety, who liked it, how many times it was shared, among other metrics. This process repeats indefinitely, reaching more and more people as long as users stay engaged with the short video posted. With this in mind, your brand should focus on delivering content that resonates with the majority of TikTok's consumer base.
Build a Community. Given the above explanation of the TikTok algorithm, it should be clear why building a community is important. Those that are already familiar with your brand and the content you post are much more likely to positively engage with new videos you post – pushing it out to more and more people as time goes on. At the end of the day, the primary goal of most marketing strategies is to drive conversions – TikTok should be no different. Creating a community will establish you as a leader on the platform and build trust in your brand amongst the platform's consumer base, eventually driving sales and revenue.
Go Live to Improve Visibility. TikTok Live was launched at the beginning of April 2020, just weeks after COVID-19 stay-at-home orders hit multiple states across America. Due to the success of the feature during lockdowns, TikTok decided to expand it about a year later, adding the capability to bring on co-hosts, use moderators, host Q&A's and more. After these Live sessions, the creator's recent videos are pushed to attendees, bringing more eyes to their content. To maximize reach, it's a good idea to utilize this feature on a regular basis.
Follow the Trends. Keeping up to date with TikTok's everchanging trends is a sure-fire way to attract tons of users to your content. Whether you're hopping on a popular sound or enlisting a creator to perform a trendy dance with your brand visible, it's important to take advantage of these fads instantaneously before users are on to the next one. Now is the time to skip the long, drawn-out process that comes with making corporate marketing decisions. Instead, enlist a small creative team and give them full control over TikTok, allowing them to study trends and post content quickly to increase your odds of going viral.
Don't Get Too Comfortable. The TikTok platform is changing every day – whether it is the company itself introducing new features and innovations to keep users engaged or the millions of creators on the platform creating new popular trends for others to follow. For this reason, it is important that brands always stay on their toes and never get too comfortable with their perceived success. Unlike with platforms such as Instagram and Facebook, dwelling on what worked for you in the past could result in a significant reduction in user engagement over time. You must keep up with the platform's constant changes or risk getting left behind.
Conclusion
TikTok is truly unlike any social media platform on the internet. However, it is becoming increasingly difficult for brands to ignore. The fast-paced nature of the application can make gathering an audience tough initially, but you must stick with it. TikTok's algorithm is designed to benefit creators who post consistently over time.
If you haven't considered TikTok as a potential channel to execute your 2022 marketing plan, it's time to start. Even if Gen Z or Millenials aren't your primary demographic, the brand awareness that can be generated from the platform is invaluable – and the return on investment can be extremely high when strategies are executed properly.
Do you want to get started on TikTok, but don't know where to start? Vonazon has you covered. Our TikTok Experts understand the platform on an intimate level and are able to drive results organically. You can't afford to wait another moment – schedule a free consultation and get started ASAP!