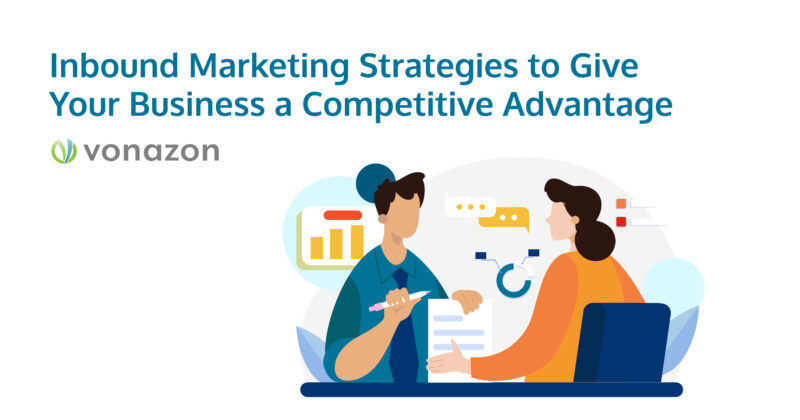 Inbound Marketing Strategies to Give Your Business a Competitive Advantage
Attracting customers by creating valuable content and experiences tailored to them is considered effective inbound marketing. Outbound marketing has a more wide-spread approach focused on awareness, while inbound marketing strategies are typically more subtle and focus on taking a targeted group of individuals through the buyer's journey. There are several different methods in which inbound marketing can be performed, in this article we will share some of our favorite inbound marketing strategies that produce results.  Also, make sure to download our FREE HubSpot Marketing Guide which shares some expert tips and methods to get the most out of the powerful platform.
The Buyers Journey
The buyer's journey can be divided into three stages that illustrate how leads progress along their path to becoming a customer:
Awareness Stage: The buyer becomes aware that they have a problem.
Consideration Stage: The buyer identifies their problem and begins to consider options to solve it.
Decision Stage: The buyer assesses and decides on the right provider for the solution.

Understanding the buyer's journey and the pain points they experience throughout the journey, along with factors that can influence their decision, can help sales and marketing teams better identify with the buyer and produce quality content that will resonate with them.
Lead Nurturing
The process of developing and maintaining relationships with buyers at every stage of the journey is referred to as lead nurturing. Effective lead nurturing involves focusing marketing and communication efforts on understanding the needs of leads and providing the information and solutions they need to build trust, increase brand awareness, and maintain a connection all the way until purchase.
Marketing automation is often used to develop flexible and adaptive lead nurturing strategies. Featuring personalization in your lead nurturing is crucial, as it has become expected among consumers. Leads do not want to be sold to, they want to feel heard and understood. Being flexible and personable throughout your lead nurturing process gives prospects the best possible experience and can create loyal customers.
Buyer Personas
A buyer persona is a semi-fictional representation of your ideal potential buyer based on research, real data, and characteristics embodied by your existing customers. Examples of these determining factors can include age, interests, and geographical location. Buyer personas should be grouped into different segments that make the most sense and are most valuable to your brand. Developing these personas gives you a far better understanding of your leads and customers than market research alone and makes it easier for you to personalize your content.
Content Strategies
Put simply, your content strategy is what puts the right content in front of the right people, at the right time, for the right reasons. This includes using your buyer personas to create different sets of content catered toward each group. There really is no general blueprint for a content strategy, as they can differ greatly based on who you are marketing to. It's a good idea to test different forms of content – such as eBooks, blogs, emails – to see what is most effective with different sets of your audience. Maintaining a solid understanding of your buyer personas and gaining insight into which platforms work best for advertising your content is crucial to creating inbound marketing strategies that convert.
Email Marketing
One of the most powerful inbound strategies for nurturing leads and closing sales is email marketing. provides a direct line of communication with your leads where you can take them through the buyer's journey in a comprehensive and in-depth way. The important factor is to build your email list with leads that you have earned and are interested in what your business has to offer. This can be accomplished by holding contests and giveaways in exchange for signing up to your email list. Sending emails to recipients who did not sign up for your list can result in your emails being automatically sent to spam or even suspension of your account. Build your list the right way and take advantage of this valuable form of inbound marketing.
Harnessing Social Media
It's no secret that social media is not going anywhere and is only growing. Utilizing social media is an absolute necessity in today's digital marketing world and is one of the most cost-effective ways to generate interest in your company. It's important to cast a wide net among all the popular social media platforms such as Facebook, Instagram, Tiktok, Twitter, and LinkedIn while catering your content to what will be most effective on each platform. Keep your finger on the pulse of current trends to develop social media strategies that will help you stand out amongst your competitors.
What is HubSpot
HubSpot is a powerful CRM platform that includes a variety of tools to manage your marketing efforts easily and effectively:
Marketing Hub – Marketing software to help you increase traffic, convert visitors, and run complete inbound marketing campaigns at any scale.
Sales Hub – Sales CRM software to help you get deeper insights into leads, automate unenjoyable tasks, and close deals faster.
Service Hub – Customer service software to help you connect with customers, exceed expectations, and turn them into promoters who spread the word about your business.
CMS Hub – Content management software that's flexible for marketers, powerful for developers, and brings a personalized, secure experience to customers.
Operations Hub – Operations software that allows all your systems and teams to work better together by syncing your apps, cleaning and curating customer data, and automating processes.
Harnessing a valuable CRM tool like HubSpot allows you to create several different types of inbound marketing strategies. Test different methods to find out what performs best and turns leads into loyal customers.
Get the FREE HubSpot Marketing Guide 
WHAT YOU'LL LEARN: 
Understand the HubSpot software. This is your toolbox.
Discover the Inbound Methodology. Gain mastery of the tools.
Develop an action plan to continuously grow your business.
Find out which products you can get for free and how to use them efficiently.
The journey towards a more qualified leads and sales starts here!
Admin | Uncategorized | 0 Comments