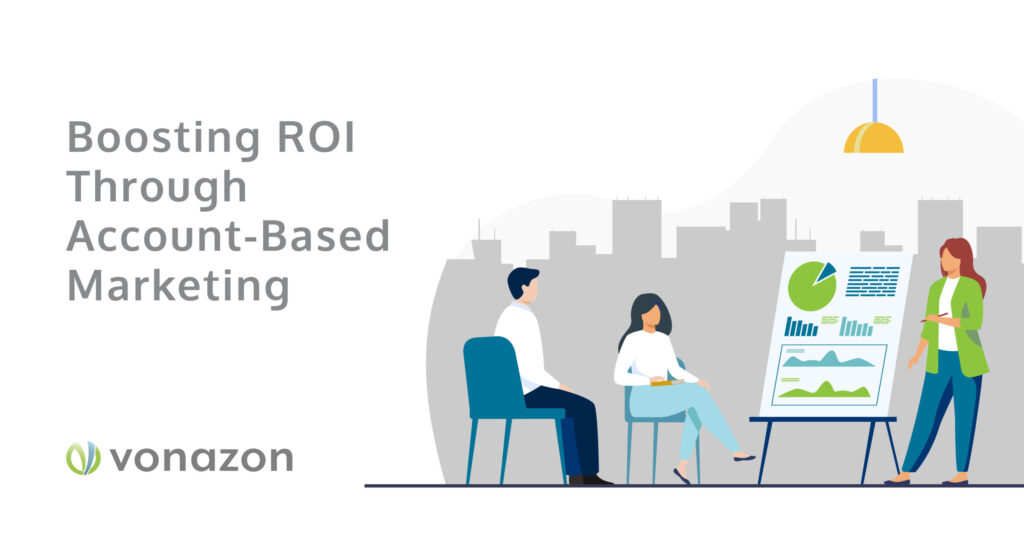 Boosting ROI Through Account-Based Marketing
Capturing the attention of potential clients in the B2B sphere is now more difficult than ever. You need to focus your efforts on high-value accounts to maximize your ROI. Account-based marketing makes this possible.
The process revolves around combining sales and marketing expertise to find, engage, and convert the most important account while weeding out the low-value ones.
Here are some statistics to show how effective account-based marketing can be:
What is ABM?
Account-based marketing is a strategy that allows you to sift through the noise and eliminate the less valuable accounts early on. It also ensures that marketing and sales are aligned, allowing your team to move faster into the processes of engaging those accounts.
ABM allows your company to communicate with high-value accounts as if they were separate markets, resulting in a higher ROI and increased customer loyalty.

Benefits of Account-based Marketing
Account-based marketing is by far the most effective B2B strategy. Here are some advantages to using this method that you may not be aware of:
Increase Your ROI
One of the primary objectives of account-based marketing is to increase ROI. This is because ABM makes it easy to calculate the ROI for each account, allowing you to eliminate those that aren't a good fit for your company.
Optimize Your Budget And Resources
Account-based marketing allows you to focus your resources more efficiently by establishing marketing campaigns tailored to specific accounts. This targeted approach allows you to devote more time to potential, high-value accounts and less time to low-value ones.
Boost Engagement
Since personalization is at the heart of account-based marketing, clients are more likely to engage with your company. It's a well-known fact that content that is tailored to individuals, their business, and where they are on the customer journey attracts the most engagement.
Align Your Marketing And Sales Teams
Collaboration and communication are keys for the growth of any company. In account-based marketing, this transparency and alignment will guarantee that your marketing and sales teams are working toward the same goals.
6 Steps to a Successful ABM Program
A list of high-value accounts serves as the core of a successful ABM program. Once you've defined your goals, your marketing and sales teams may collaborate to create and deliver targeted campaigns through the most effective channels.
1. Define Your High-Value Accounts
Start by using your analytics, automation, or any business intelligence tool at your disposal to identify and prioritize your high-value accounts. Look out for factors like:
Revenue possibilities
Market impact
Likelihood of repeat purchase
Possibility of higher-than-average profit margins
2. Identify Key Internal Players
Determine the structure of your target accounts, as well as how choices are made and who makes them. This will allow you to optimize your efforts even further.
3. Define Your Messaging And Content Strategy
An efficient ABM program uses valuable content that tackles specific and important pain points. Think of ways that your messaging and content can prove valuable to the target account.
4. Find The Best Channels of Communication
Whether web, email, or mobile, connect with your audience wherever they are. Consider which channels will be most effective for your target accounts.
5. Carry Out Targeted And Coordinated Campaigns
For optimal impact, you must coordinate your campaigns across channels and teams' efforts. Make sure your marketing and sales teams are on the same page.
6. Measure, Optimize, and Iterate As Needed
You must continue to test, monitor, and optimize your ABM marketing efforts to ensure continual growth and higher ROIs. Keep an eye out for trends and examine the results to see if there are any opportunities you can leverage.
Account-Based Marketing Examples
The targets you pick to center your ABM programs on will be the ones with the greatest potential to provide value to your company. Here are some real-world examples of how B2B marketers might use account-based marketing to establish programs:
Events
In-person events are one of the most effective approaches for sales teams to persuade decision-makers. Personal invites to key prospects from target accounts and personalized follow-up after the event can all be part of your ABM approach to events.

Email Campaigns
While you may use templates and marketing automation for volume-based marketing, account-based marketing entails tailoring email messages for each company and individual.
Paid Advertising
Paid advertising and sponsored social media posts are popular methods of reaching out to specific accounts. Social media networks such as LinkedIn and Facebook allow you to target certain companies and personas so you can tune your campaigns to focus on a few specific accounts rather than casting a wide net.
Webinars
Like events, you can tailor webinars, to be relevant and current for a certain target account. You can customize webinar events and follow-up can for specific businesses, and you can design webinar content with the target audience in mind.
Conclusion
Account-based marketing is not a new concept, but it has recently seen a resurgence as a result of evolving technology and a shifting landscape. It is one of the most effective B2B strategies that you can employ today.
An effective ABM strategy can help improve your ROI, drive revenue, generate more conversions, and align sales and marketing.
Perfecting ABM could be a game-changer for your business. Let us help you achieve your company objectives for this year. Contact us to learn how we can help you construct an ABM strategy with your clients in mind. Reach out to our team for a free consultation today.
Admin | Marketing | 0 Comments