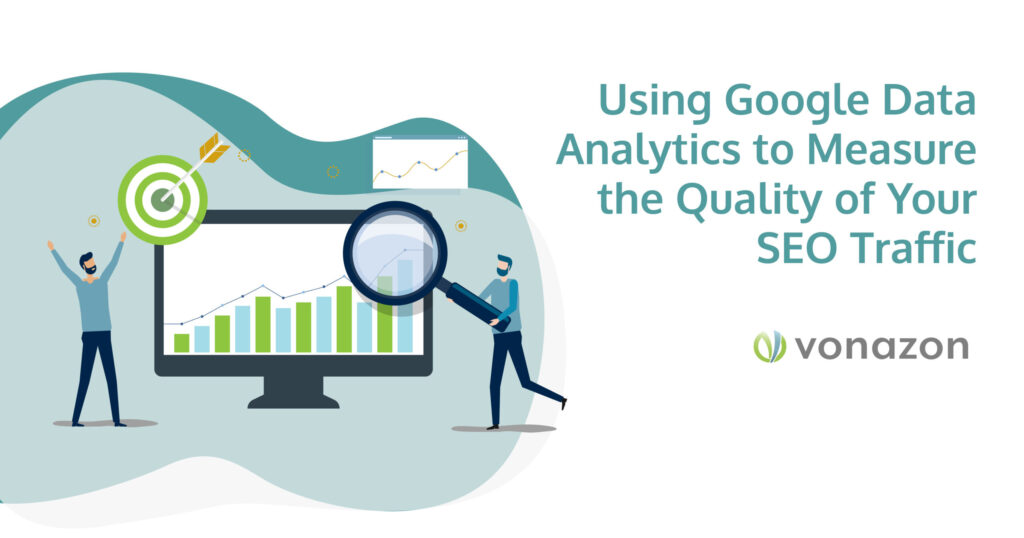 Using Google Data Analytics to Measure the Quality of Your SEO Traffic
The first step in improving any business effort is to measure how well it performs. The assessment and evaluation of your SEO traffic are crucial to your organic marketing success.
Ranking for your target keywords is great and can help with brand recognition, but what matters most is how well the traffic aligns with your business goals.
In this article, we'll look at a variety of Google Data Analytics metrics to help you develop a solid SEO strategy and learn more about what constitutes high-quality traffic.
Why is Traffic Quality Important for SEO Success?
Quality traffic is what puts your company on the path to achieving its objectives. A business website with low traffic but high engagement and lead conversion can perform much better than one with high traffic but low conversion rate if your goals are to generate leads and sales.
Similarly, highly engaged traffic does not always imply high-quality traffic. This is due to the possibility that people are visiting your website for the wrong reasons.
Assume you're a company providing SEO auditing services. You decide to include a handy little list with checkmark boxes to help individuals in troubleshooting their website's SEO. Google Analytics will now show a lot of traffic and user interaction. However, if your checklist's users are other SEO auditors rather than your customers, the traffic won't help you get many leads or sales.
Simply put, profitable or high-quality traffic positively correlates with conversions.
However, this does not imply that we should only measure one or two metrics and ignore the rest. Having a thorough understanding of how your website performs will help you in a variety of other ways.
How to Measure the Quality of Your Traffic With Google Data Analytics?
Average Session Duration
Average Session Duration, or time on site, refers to how much time a user spends on a website. Google will count unused sessions for up to 30 minutes before marking them as bounces.
The more time a user spends on your website, the better. It indicates that your SEO strategy has uncovered some valuable content. It also means that the way you've organized your site encourages users to look into other topics or services you offer by making them easier to find.
Time on site can indicate:
Valuable content
Good user experience
Proper internal linking
Great website design
High-quality traffic
Pages Per Session
Pages per session is the average number of pages a user views in a single visit. The more pages they view, the more interested they are in what you have to say.
If you aren't getting at least two pages per session, you should reconsider your SEO strategy.

It's possible that your content isn't useful or relevant enough for the user's search. It can also mean that the overall architecture of your website is confusing, or that you're not properly interlinking.
Conversion Rate
A conversion rate indicates the times your visitors completed a specific action you're tracking, such as making a purchase, adding a product to a cart, or signing up for a newsletter.
Consider looking at each goal separately to see how it's performing. This allows you to see which conversion goals you're meeting and which ones need your attention.
For example, if your traffic has increased, but your conversion rate has decreased, it could indicate that your site is attracting fewer qualified visitors. This is likely because you're ranking for keywords that aren't relevant to your business goal.
Low conversion rates could also indicate ineffective copy or a design that does not clearly display the call to action.
Form Submissions
Form submissions, like conversion rates, have a similar relationship with quality traffic. It's a goal that your visitors are encouraged to complete, providing you with the data you need to improve your marketing.
The rate at which they fill out a form is a good indicator of the quality of your traffic. So if a large percentage of your visitors don't do so, you're probably targeting the wrong audience. If this is the case, reconsider the type of information you're requesting and the overall user experience of your form page to make it more relevant and engaging.
Bounce rate
The bounce rate is the percentage of visitors who come to your site and leave without visiting another page.
Bounce rates are important for your SEO because they can indicate whether the content on a page is relevant or confusing to your visitors. A high bounce rate on your home page, for example, can indicate that visitors are uninterested in what you're offering, and therefore only viewing that page and then leaving.
Examine how much time your visitors spend on your site, where they come from, and what devices they are using. Then, look to see if your content and experience are in line with those factors. At this point, you will be able to identify patterns that will help in determining how to address any bounce rate issues.

New vs. Returning Users
As the name implies, new vs returning users refers to the distinction between people who have previously visited your website and those who have never done so.
As your website matures, both of these metrics should improve. However, if the number of repeat visitors drops dramatically, it could be due to a recent change on your site or a poor marketing strategy.
Conclusion
Simply put, more qualified traffic equals more sales. To attract that kind of traffic, you'll need to offer high-quality, relevant content as well as an outstanding user experience. Using Google Data Analytics, you can figure out what's working and what needs to be improved.
For many non-technical users, Google Data Analytics can be difficult to decipher and make decisions with. Sometimes, you need seasoned experts to go through the data and pull pertinent information for you.
That's where Vonazon comes in. Our team of experts has decades of experience helping businesses like yours make the most of the data they receive from platforms such as Google. Contact us today for a free consultation and to learn more about our service offerings.
Admin | Analytics , Marketing | 0 Comments