With COVID-19 transforming many aspects of business, the events industry has been adversely affected as well. Over the past few months, organizations have turned to video conferencing platforms such as Zoom and Skype to coordinate both internal and external meetings. As a result, virtual events have risen in popularity due to their cost-effectiveness and ability to connect hundreds of participants from around the world.
Creating virtual events that are both interactive and engaging continues to pose a challenge for organizers across the globe. Luckily, the introduction of hybrid events solves many of these issues. Are you familiar with the concept? Read further to learn why your business needs to incorporate hybrid events into your marketing strategy.
What are Hybrid Events?
Simply put, hybrid events combine both live and virtual events. It includes both in-person and virtual audiences, allowing participants to choose how they wish to engage with the event. These occasions are also not limited by venue location or capacity, making it possible to invite thousands of individuals from across the world. Recent studies suggest nearly half of corporate event attendees consider hybrid events the ideal format for the future, as opposed to exclusively live or virtual events.

Benefits of Hybrid Events
You may be thinking hosting a hybrid event sounds quite complicated. After all, you're tasked with creating two events in one – why not just stick with either a virtual or live format?
Hybrid events offer tremendous value that simply can't be replicated by other types of events. Here are just a few benefits you'll notice before, during, and after your hybrid event:
1 – Event Flexibility
Live events are incredibly difficult to reschedule if an unexpected emergency arises. There are a plethora of moving parts to consider that may be costly or even impossible to rearrange. With hybrid events, much of the setup occurs beforehand. This makes it much easier to coordinate a new date, if needed
2 – Comprehensive Analytics
Gathering detailed analytics is paramount after a successful (or unsuccessful) event. The digital nature of hybrid events allows hosts to collect an array of data including presentation watch time, audience engagement, daily attendance, and more. These metrics will help you understand what went right, what went wrong, and how to improve for future engagements.
3 – Environmentally Friendly
Live events often require attendees to travel by air, plane, and sometimes a combination of these methods. You and your team will also likely be traveling back and forth picking up important event materials. Hybrid events allow you to take a sustainable approach towards events, as attendees have the option of arriving in person or simply logging in online. For most, attending virtually will be the most cost-effective and practical option, minimizing the overall carbon footprint of your event.
Hybrid Event Checklist
Create an event budget: Like with all events, determining your budget should be one of the first steps of the planning process. Consider costs related to AV and production, venue rental, hybrid platform fees, etc.
Formulate an agenda: When designing an agenda, consider the goals and objectives of the event. This will help you create relevant activities for your attendees to engage in. You'll also need to select a date and time that's convenient for the majority of participants regardless of where they choose to attend from.
Decide on a location: There are two locations for a hybrid event – the physical venue and the virtual platform. If possible, it's best to book a space that is accustomed to hosting these types of engagements and has the capabilities for doing so. The online event platform should also be designed for hybrid events as well.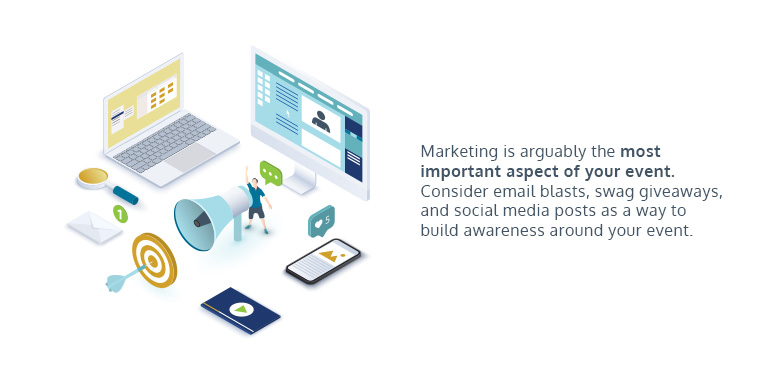 Develop a marketing plan: Marketing is arguably the most important aspect of your event. Consider email blasts, swag giveaways, and social media posts as a way to build awareness around your event.
Manage networking and engagement: Without engagement between offline and online audiences, the essence of a hybrid event is largely lost. Consider how you'll be able to provide both networking and engagement opportunities for both sets of attendees.
Analyze event success: At the conclusion of your event, gather relevant statistics related to the event in order to gauge its success. Event feedback, digital analytics, and engagement data will help you understand what worked and what can be done better next time around.
As you can see, hosting a hybrid event will take a bit of extra effort, but the advantages are plentiful. Hybrid events offer endless opportunities to meet ROI, innovate, and connect with current and future stakeholders of your business. When planning your next corporate event, consider a hybrid format to reap the benefits of both virtual and in-person events.