While we currently live in a highly digitized society, the importance of in-person, physical interaction is still as important as ever – if not more so. Companies are providing online experiences at every corner for their target consumer. However, many often neglect to offer a similarly strong offline experience for their audience to engage with.
Connecting the offline and online customer experience is vital for brands today. You must be able to meet your audience where they're at. According to a survey completed by Autopilot, 72% of consumers would prefer to connect with brands and businesses through multichannel marketing. No matter how well you may be doing with your single-channel approach, implementing multiple channels will allow you to take hold of an even larger share of the market.
Importance of integrating the offline and online customer experience
Every great marketing strategy requires flexibility. Your audience exists both online and offline, therefore, connecting with them in both places is paramount. Not only will integrating both experiences offer different touchpoints for the customer, but you'll also gain a holistic view of their behavior and journey with your company. This data will help you refine your approach towards omnichannel marketing and determine which processes are working effectively.

If your business currently sells products or services online, it's quite easy to track customers and their buying habits. With a proper eCommerce platform, you can easily identify customer acquisition costs, cart abandonment rates, average order cost, and more. Tracking offline data and connecting both experiences is a bit more difficult, but can be done with a bit of preparation and intentionality.
Integrate Your Offline Store with Your Online Presence
Integration of physical and online stores can be done with a little bit of work. A brand that does this well is the sportswear and shoe brand Nike. They understand the importance of delivering a seamless omnichannel experience and have profited massively because of it.
Their online store features a seamless design with easy navigation allowing the user to quickly find what they're looking for. When customers visit their physical store, they are presented with a similarly streamlined shopping experience. Buyers can buy products online and have them shipped to any nearest Nike location. Alternatively, they can make purchases within the physical store itself. If their desired product is not available in their size or preferred color, a salesperson is happy to help them coordinate-free shipping to their home address. As Nike's flagship stores are frequently visited by international tourists, this bridges the gap between the emotional factor of desiring the items in-person and the practical function of home delivery.
If a customer decides that nothing online or in-store fits their needs, that's not a problem for Nike either. In 1999, the brand introduced its NikeiD software, now known as 'Nike By You'. This innovation allowed customers to fully personalize and design their own shoes based solely on Nike's available silhouettes. As the internet has become increasingly more advance, so have the capabilities of the software. Customers can now send images to Nike who will then implement them onto their custom shoe. Lastly, if buyers would prefer to utilize this service in person, they can visit a Nike By You physical studio in several different countries around the world.
As you can see, Nike connects with their customer at several different points along the buying journey. Their offline and online experience isn't restricted to one channel, instead, it is efficiently streamlined through several different touchpoints.
3 tips for creating a seamless shopping experience for customers
1. Get serious about data
Data is the key to making informed decisions. Without it, you won't have access to insights about how the offline and online customer experience is correlated. Monitoring metrics such as social media analytics, web traffic (session duration, keyword ranking, most visited pages), and retail data (coupons/vouchers used, time spent in-store, number of store visits) will allow you to optimize the experience for your end consumer.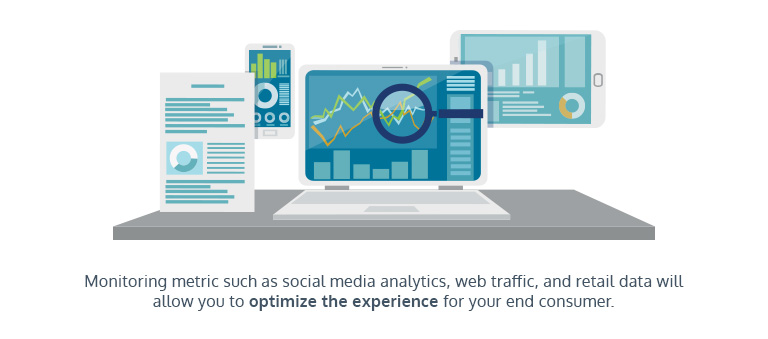 2. Create consistency in the offline and online customer experience
Consistency throughout the entire buying journey will help bridge the gap between online discovery and offline purchase, ultimately boosting conversions and revenue for your brand. It's important to keep design aspects such as colors, visuals, logos, and word choice consistent across all platforms as consumers are more likely to remember your company as they progress through the buying journey. You want to ensure these customers experience the same brand persona across all platforms.
3. Integrate technology wherever possible
Technology is becoming more and more prevalent in today's society. Utilizing intelligent software and advanced hardware will allow you to deliver a smooth and effective omnichannel experience. Additionally, you'll want to be sure this solution is scalable across all stores and multiple platforms.
The importance of integrating the offline and online customer experience cannot be understated. Combining these experiences helps create a complete picture of the customer's buying journey and adds value, simplicity, and uniqueness to their interactions. Keeping consistency is imperative to making sure your brand is both discoverable online and equipped with the resources to convert sales offline.
Need help with your omnichannel marketing strategy? Vonazon has you covered. Our team of marketing strategists have decades of experience combining the offline and online customer experience for brands like yours. Contact us today for a consultation or for more information about our services.